Benjamin Siong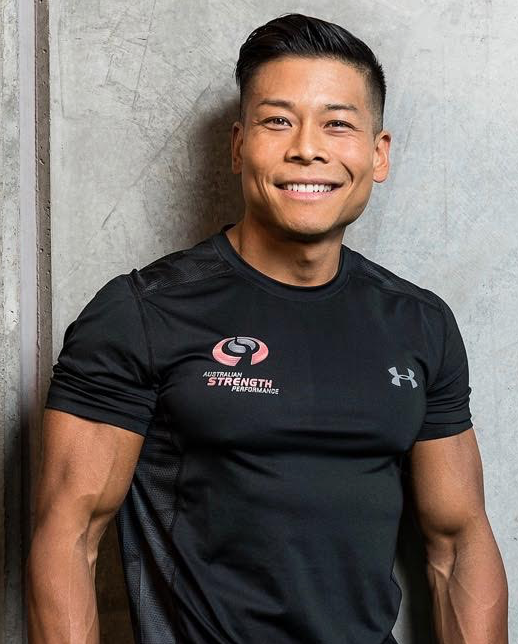 Renowned fitness expert Ben Siong is among Australia's leading body composition specialists, and the founder of Australian Strength Performance.
Having graduated with a Bachelors of Science (Psychology Major), and an Honours degree in Psychology, Ben is a passionate believer that a healthy mind begets a healthy body, and actively promotes the likes of positive thinking into all aspects of his training protocols.
Ben is one of a select few of Level 5 Poliquin Internationally Certified Strength Coaches (PICP 5), an advanced BioSignature and NLP practitioner with over 17 years experience in athletic development, sports psychology and physique conditioning. He is a certified Sports Nutrition Specialist (SNS) with the ISSN – International Society of Sports Nutrition.
During his career, Ben has coached athletes from state to Olympic level in over 16 different sports. He also works extensively with competitive bodybuilders and fitness models, including the 2011 Miss Universe Australia and 2012 Miss Malaysia Universe. It is this expertise in creating remarkable physiques in record time that has earned him the signature title of Body Composition Specialist.
Ben is also a sought after international fitness speaker and author, and regularly contributes to fitness magazines such as Iron Man Australia and Mens Health magazine.
Qualifications:
Degrees:
Bachelor of Science (Psychology Major)
Bachelor of Applied Science (Psychology Honors)
Certifications:
Poliquin International Certification Program (PICP Level 5 Strength Coach)
BioPrint Practitioner (Poliquin Melbourne)
Advanced BioSignature Modulation Practitioner (BioSignature Level 1, BioSignature CE)
Poliquin Instant Muscle Strengthening Techniques (PIMST Coach)
Poliquin Fat Loss Bootcamp Private Internship
Poliquin Training the Female Client Internship
Training for Strength Sports Internship (Dmitry Klokov & Charles Poliquin)
Strength Sensei Sports Specific Training Internship – Colorado
Strength Sensei Optimizing Performance through Nutrition course – Colorado
Christian Thibaudeau Hypertrophy workshop
Florida Gators Men's Basketball Strength Coaching Private Internship
Kilo Strength Society Private Internship
Australian Strength & Conditioning Association (ASCA Level 1 Coach)
Powerlifting Australia (PA Certified National Coach)
Muscle Nerds (Level 1 Internship)
Lab Analysis and The Art of Biochemical Individuality Level 1
Australian Strength Coach – Level 1 Coach
Lilibridges and Australian strength Coach – Powerlifting Seminar
Ben Pakulski Hypertrophy Bootcamp
Peak performance Coaching
C.H.E.K Exercise Coach (Scientific core; Scientific back and Program Design)
C.H.E.K Holistic Lifestyle Coach (HLC Level 1)
Precision Nutrition Level 1 Coach
ISSN Sports Nutrition Specialist (SNS)
A.B.N.L.P certified Master NLP Practitioner and Master Ericksonian Hypnotherapist
I. A. P. C certified Bodybuilding Preparation Coach
Certificate III and IV in Fitness
PunchFit Certified Advanced Boxing Instructor